Helpline Resource
Online and Automated Telephone Service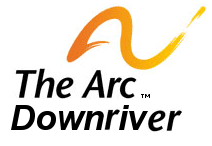 The Arc Downriver is located at 1028 Oak St. in Wyandotte, Michigan.  The phone number is 734-283-0710.
The Arc Downriver is a membership organization that works directly with children and adults within all levels of intellectual and other related developmental disabilities and their families.
The Arc's organizational purposes broadly relates to the advocacy themes of education, awareness, research, and prevention. Each of these makes up the elements underlying the agency's current emphasis on the provision of direct advocacy toward securing the proper services, programs, and entitlements for the family.
Our local chapter in Michigan has approximately 300 members. The overall philosophy of The Arc is person-centered and family-centered in its approach to all programs and services. The Arc Downriver provides the following services:
Advocacy and public policy development;
Self-advocacy and local chapter development;
Training programs about developmental and related disabilities;
Information and assistance;
Consultation and assistance to provider agencies;
Alternatives to Guardianship;
Special Sports, Recreational Activities, and;
Notary services.
If you would like more information about The ARC Downriver, please call 734-283-0710, or visit them online at www.downriverarc.org.
Phone code: 1227