Helpline Resource
Online and Automated Telephone Service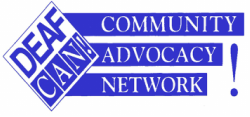 Deaf Community Advocacy Network, or Deaf CAN, is located at 2111 Orchard Lake Road, Suite 101 in Sylvan Lake Michigan.  The phone number is 248-332-3331.
Deaf CAN is a private non-profit social service agency that has been providing a wide range of social services for the Deaf and Hard of Hearing Community since 1981.  Deaf CAN responds to the needs of the Deaf Community by providing services that cannot be found elsewhere to improve the quality of life for deaf and hard of hearing people.  
Those services include interpreter referral, information and referral, deaf youth leadership training program, sign language classes, sensitivity training for law enforcement officers, pathways for parenting and the deaf AIDS program.  
If you have questions, or would like more information, please contact Deaf CAN at 248-332-3331, or visit them online at
www.deafcan.org
.  
Phone code: 1267