Helpline Resource
Online and Automated Telephone Service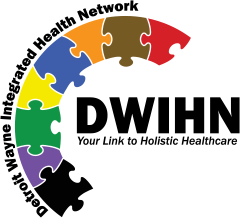 Detroit Wayne Integrated Health Network is located at 707 W. Milwaukee, in Detroit Michigan.  The phone number is 313-344-9099. Detroit Wayne Integrated Health Network is a public entity that has a service provider network of over 150 community-based organizations.
The agency's goal is to make itself a trailblazing system for other urban areas to study and duplicate.  It strives to strengthen its business culture while maintaining the compassion and sensitivity needed to stay in touch with the people it serves.  
Detroit Wayne Integrated Health Network is invested in involving more people with disabilities, advocates, and families in the delivery of services and the formation of policy.  It is creating relationships with universities that foster cutting edge training and research to enhance the efficiency of the agency.  It has developed a public healthcare delivery organization committed to promoting, creating and ensuring timely, accessible, and culturally competent and clinically effective services essential to Detroit Integrated Health Network becoming a managed care organization.  
The agency is further committed to cultivating more effective communication with service providers to better address their needs as delivery partners.  The agency is dedicated to educating, informing, and building relationships with the community, becoming more effective financial managers to ensure fiscal stability and ultimately addressing a greater range of mental health care needs at appropriate costs while considering its responsibility to the community.  
If you would like more information about the Detroit Integrated Health Network, please call 313-344-9099 or visit them online at
https://dwihn.org/
Phone code: 1239