Helpline Resource
Online and Automated Telephone Service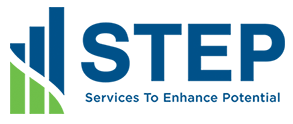 Services to Enhance Potential or STEP, has four Resource Centers throughout Wayne County.  They are located in Detroit, Westland, and two locations in Dearborn.  The Administrative Office is located in the Dearborn Resource Center, at 2941 Gulley Road in Dearborn Michigan.  The phone number is 313-278-3040.
STEP's mission is to support individuals in the pursuit of their chosen goals and the achievement of personal satisfaction in their lives.  STEP offers a variety of services to persons with developmental disabilities, including supports coordination with a growing emphasis on self-determination, skills training, and integrated employment.  Daily living skills are taught both at the in-house day program and in community settings.  Each Resource Center offers a workshop program, with the exception of the Livonia site, where the emphasis is on community-based experiences.  STEP emphasizes community employment opportunities. STEP also has 3 local Thrift Stores and donation centers. This community-based business enterprise began in June of 2007 with the opening of a store in Wayne, MI. It serves as an opportunity to train and employ individuals with developmental and mental disabilities. They expanded the operation in 2011, adding a second store in Southgate and Dearborn in 2016. A great way to support their mission is to shop local or donate your gently used merchandise to the store for resale! All monies received from the sale of merchandise and donations is directly used to support the store associates as they grow their retail skills and make steps toward finding a job in the community. To locate a  store near you click on the link STEP Thrift.
Persons interested in individual placements, supervised group employment or the development of self-employment can contact STEP at 313-278-3040, or visit them online at www.stepcentral.org.
Phone code: 1218